Aroma Lamps and Diffusers at Tree of Life Journeys
---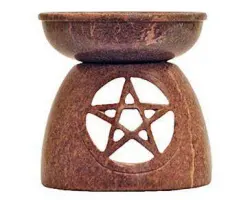 Aroma Lamps also known as fragrance diffusers, wax warmers, simmer pots or fragrance burners heat oil and water to release the scent of the oil. They can also be used with wax tarts.
This section also includes scent diffusers including those made of natural clay, wood and more.

Great for aromatherapy, spell work, or in place of incense for those who do like like the smoke of incense (or might set off smoke detectors!).
A candle burns in the base and a bowl above holds your fragrance source. The electric versions have a small heat source (usually a light bulb or LED bulb) in the base to heat the bowl. Many of the bowls are removable for easy cleaning.
As with a candle, diffusers should not be left unattended and should always be used on heat tolerate surfaces away from children, pets, or flammable objects such as curtains.
---
---
Showing 1 to 6 of 6 (1 Pages)